Image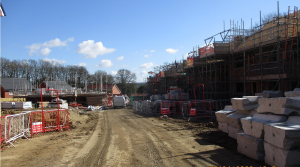 A major housebuilder constructing new homes in Hart has been fined after working over the Easter weekend, breaching the conditions of their planning permission relating to working hours. 
Hart District Council successfully prosecuted Crest Nicholson Operations Ltd at Basingstoke Magistrates Court on Tuesday 13 June for a failure to comply with a Breach of Condition Notice. The notice was served in October 2021 relating to working hours on the Hawley Park Farm development. 
Crest Nicholson Operations Ltd entered a guilty plea at the hearing. They also offered an 'unequivocal apology' to the court and residents for disturbing the peace and enjoyment of nearby properties on a bank holiday, due to sub-contractors carrying out works on Friday 7 April this year (Good Friday). 
The district judge imposed a fine of over £1,300 and ordered the developer to pay the Council's full legal costs within 21 days. This includes officer time on investigating the Good Friday breach and compiling the evidence for prosecution, amounting to over £5,300. 
Councillor Alan Oliver, portfolio holder for Community Safety and Development Management, said: "Whilst the developer wasn't given the maximum fine for a Breach of Condition Notice (which is £2,500), this decision sends a clear message to Crest Nicholson and is a deterrent to other developers who breach planning control in Hart." 
Hart District Council responded swiftly to reports of work on a bank holiday and created a comprehensive evidence bundle to secure this prosecution. These actions demonstrate the Council's powers in responding to harmful breaches of planning control when there is sufficient evidence for prosecution.
Suspected planning breaches can be reported online at Hart District Council's website.