Image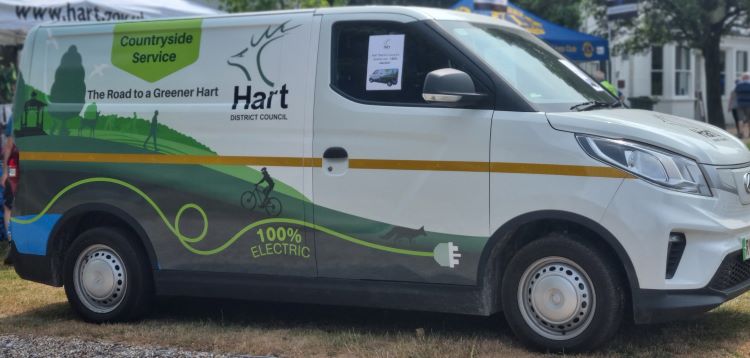 Hart District Council has purchased its first two electric vans, replacing older petrol vehicles as part of its commitments to be carbon neutral by 2035.
The replacements are part of a gradual plan to replace all council vehicles when they come to the end of their life. This is usually the most carbon-efficient way to upgrade since 40% of a car's emissions are primarily from manufacturing and maintenance*.
Upgrading vehicles to electric is one of many actions Hart has planned to achieve its ambition of being a carbon-neutral council by 2035 (and as a district by 2040).
As part of the Council's climate change action plan, electric vehicle (EV) chargers are being installed across Hart-owned car parks. The first have been installed in the Council civic office car park so the new vans can be charged onsite. Additional charge points are planned in Hartley Wintney, Fleet, Blackwater, Hook and Odiham.   
Councillor David Neighbour, Leader of Hart District Council, said: "It's great to see our new electric vans around Hart. Our Countryside and Parking services use these vehicles each week to carry out their essential services and are finding the vans easy and enjoyable to drive.
"Transport is quite a large proportion of our carbon footprint, so it's important that we upgrade to electric to meet our 2035 ambition."
The vans were sourced from local dealers and are the Maxus eDeliver3 model – chosen against Hart's service requirements, sustainability targets, good industry reviews, as well as representing good value for money.
The new vans are in addition to our road sweepers that were upgraded last year to run on hydrogenated waste vegetable oil (known as HVO vehicles). HVO is a renewable and more sustainable fuel with up to 98% lower carbon emissions than diesel**. Hart will continue to review its replacement plan in line with technology advances.
Thinking of upgrading to electric?
If you're thinking about buying an electric vehicle, you might want to consider these points (based on the book 'How bad are bananas?' by Professor Mike Berners-Lee, a leading expert in carbon footprinting):
Unless your car is particularly gas-guzzling, it is usually best to wait until your car is at the end of its life, the most carbon efficient way to swich.
Even with electric, it is important not to buy a car bigger than you need. Bigger car = higher carbon emissions due to its manufacturing carbon footprint.
Plug-in hybrids could be a good option if you need the range of a conventional car or do not need a huge battery.
Hampshire County Council is taking requests on where residents would like on-street EV charge points. To have your say, visit: https://forms.office.com/Pages/ResponsePage.aspx?id=tdiBPwfuF0yGnB20OQGNmzUTqBAIhElLiamg47BGEjRUOTgwQURRUDk2VlUzUkI4TThXQTU1NVMyTC4u
*Information and data taken from 'How Bad are Bananas' by Mike Berners-Lee (2020)
** www.gov.uk/government/publications/greenhouse-gas-reporting-conversion-factors-2022