Image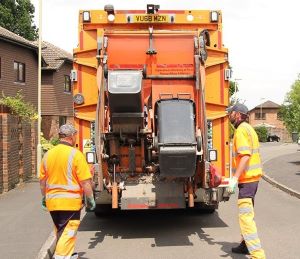 Rubbish and recycling bin collections are set to get greener thanks to a drive from Basingstoke and Deane Borough Council and Hart District Council to cut carbon emissions. 
From spring next year, it is planned that the waste and recycling collection trucks for both authorities will be powered by hydrogenated vegetable oil as a low-carbon biofuel. 
With emissions up to *98% lower than diesel, using conversion figures provided by Government, the biofuel will make significant cuts to both councils' carbon footprints to support their respective climate emergency declarations.  
Serco, which delivers the joint waste contract on behalf of both councils, has been trialling the new greener fuel in the vehicles in preparation for the swap. 
Basingstoke and Deane Borough Council's Cabinet Member for the Climate and Ecological Emergency Cllr Chris Tomblin said: "Each week our waste and recycling trucks travel hundreds of miles around Basingstoke and Deane emptying approximately 167,000 bins.  
"Finding a solution to cut the carbon generated by this service was vital to support our target to be a carbon-neutral council by December 2025. Grass mowers and mechanical street sweepers, used by our grounds maintenance and street cleaning teams, already run on this biofuel. 
"I am delighted, after much exploratory work and testing to ensure residents continue to receive a reliable waste collection service, that we will soon be able to take this major step forward to cut significant amounts of carbon from our waste and recycling collections in Basingstoke and Deane and across the joint waste service." 
Councillor Richard Quarterman, Hart District Council's Portfolio Holder for Climate Change and Corporate Services, said: "After declaring a climate emergency in April 2021, finding ways to reduce carbon emissions across all our services is central to our activities and decisions. 
"Our waste and recycling collections are one of our key functions and we are pleased to be able to deliver this significant change for carbon reduction in this area. We continue to explore avenues across all our services to ensure we reach our goal of becoming a carbon-neutral council." 
More information on Basingstoke and Deane's climate emergency declaration is on the website at www.basingstoke.gov.uk/climate 
More information on Hart District Council's climate emergency declaration.
* Both councils use the UK Government's official conversion factors to calculate the approximate carbon savings from using hydrogenated vegetable oil as a replacement fuel for diesel in their operational vehicles. The government conversion factors indicate a 98% difference in the greenhouse gas emissions of diesel (average biofuel blend) compared to biodiesel hydrogenated vegetable oil (HVO). For more information, see www.gov.uk/government/collections/government-conversion-factors-for-company-reporting.