Image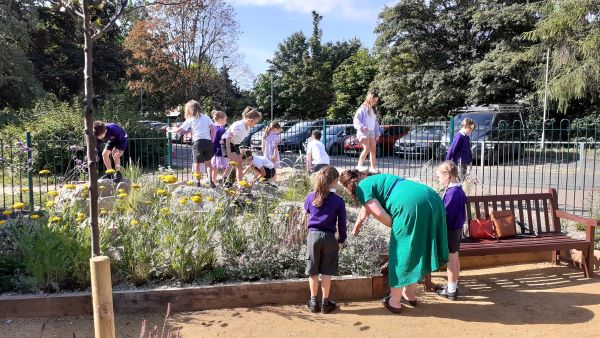 Pupils at Heatherside Infant School in Fleet are now enjoying their very own wildlife and wellbeing garden, thanks to support from the local community and a £15,000 grant from Hart District Council.  
Volunteer project manager Eleanor Mann, a parent from the school who wanted to help improve the area, brought the local community together to bring this initiative to fruition. The school's eco council also helped with the creation of the garden. 
Multiple habitats have been created in the space and plants were chosen based on their benefits to wildlife, native origin, hardiness and with climate change in mind. 
A fernery with log piles and buried wood will support beetles and amphibians. There is also a pond with natural sand beaches surrounded by evergreen shrubs providing cover for birds and small mammals when they are drinking.  
Eleanor said: "The garden benefits children here now and supports future generations. They've already enjoyed bug-hunting and love getting involved with the ongoing gardening tasks. It's also a safe, quiet space to bring students needing extra support, and used by staff and parents too."  
"This project was only possible due to the generous Council grant, so I'd like to thank them for their support. A huge thank-you also to Fleet Men's Shed who built the benches and Collards who donated all the topsoil, gravel and rocks from their local quarry in Eversley. Kebur also donated sleepers to build the benches, retain the rockery and create the raised bed. It really does feel like the community came together to make this all happen which is amazing." 
The project was funded through Hart Countryside Services Community Grants Scheme. This scheme is aimed at local organisations to fund projects that either benefit local wildlife and biodiversity or for health and wellbeing. Applications are now open. For more information and to apply for funding for your project, visit the Community Grants Scheme page.